Darinka Cindrić was born in the Croatian village of Desmerice, where she grew up dancing kolo and singing traditional Croatian folk songs with her accordionist cousin. In her late teens she immigrated to Canada and became immersed in the North American Croatian community. For over 20 years she has been a member of the folklore ensemble "Hrvatski Korjeni" and has performed at festivals across Canada and the United States.
Dina Cindrić, Darinka's daughter, is a choral director, singer and multi-instrumentalist. She has performed at festivals across Canada and Europe with numerous ensembles. She has been teaching music for over 20 years, is the founding director of the Monday Night Choir, and leads the Sava vocal ensemble.
Born in Canada to Croatian immigrants, Dina studied Croatian singing and tamburica from the age of 12. With support from the Canada Council for the Arts, she recently travelled to Croatia to collect folk songs and to study archaic singing styles from Croatia and Serbia.
Montreal's own Domaći Trubači plays Serbian and Macedonian brass-band music for all kinds of events, bringing a taste of Guča to weddings, birthdays, holidays, dance parties, and more.
Brenna MacCrimmon has been learning and performing the music of Turkey and the Balkans since 1984. She has worked with Turkish and Macedonian groups in Toronto over the years and has made frequent trips to Turkey and environs to absorb the music and culture. The longest such trip lasted from 1995 to 2000.
Her recordings include Karsilama (with Turkish Rom clarinetist Selim Sesler), Ajde Mori (with Muammer Ketencoglu and friends) and Kulak Misafiri. As a guest musician she has recorded and performed with Baba Zula and djShantel, and was featured in Crossing the Bridge, Fatih Akın's 2005 documentary about the Istanbul music scene. She has also toured across Europe with Balkan beat DJ Shantel and the Bucovina Club Orkestra.
In 2010, she found herself in Moscow as a member of the cast of Bobble with Bobby McFerrin. In addition to singing with vocal quartet Turkwaz, she plays with Zephyr (Demetrios Petsalakis and Jaash Singh), guests occasionally with Nomadica, has delved into vintage women's blues with pianist Bill Westcott, travels widely to teach and perform, and has much to do with ukuleles.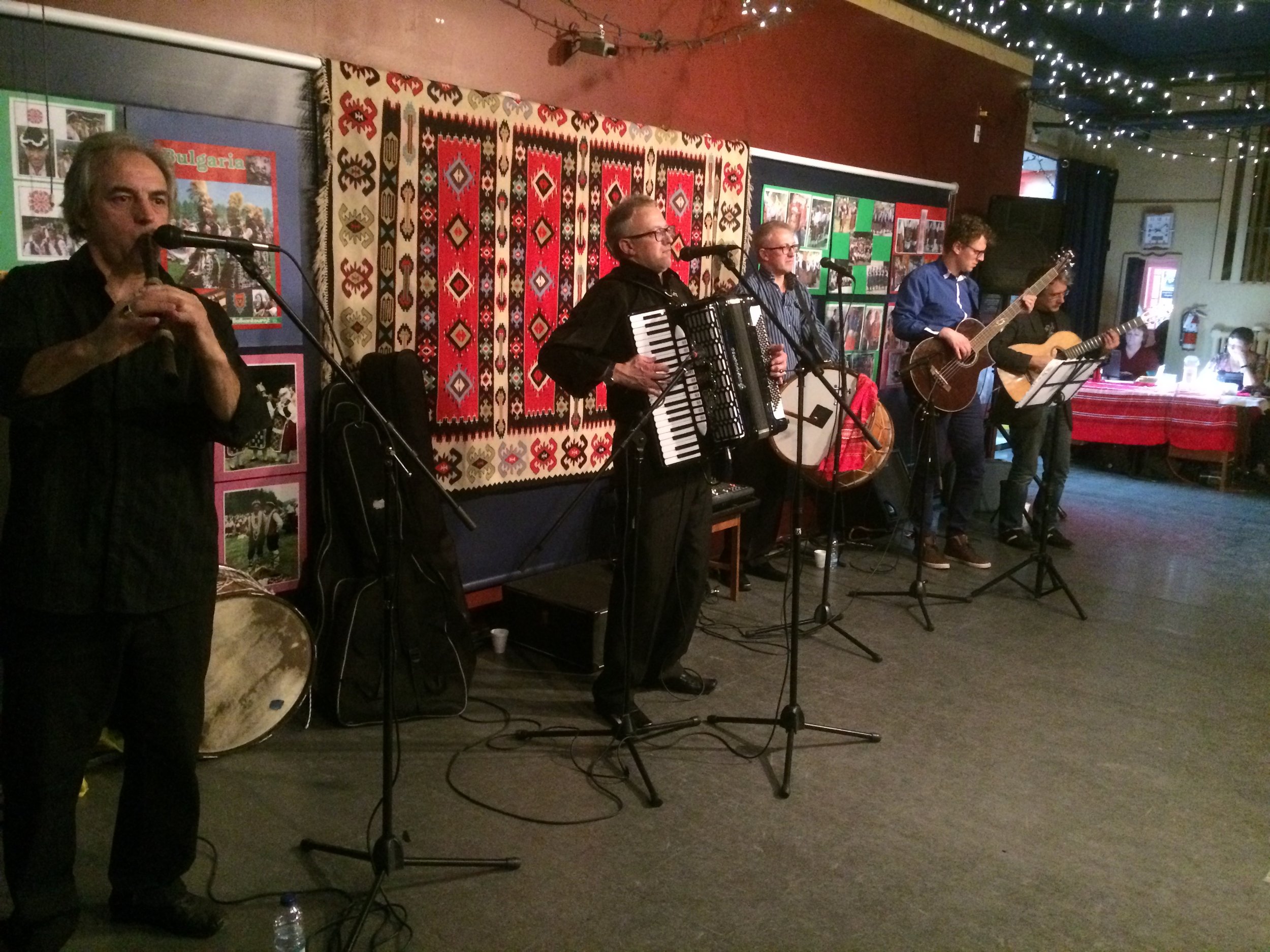 The Markovi Orchestra includes brothers Vassil Markov (kaval), Nikola Markov (tambura, saxophone), Petar Markov (accordion), as well as their sons (or nephews) Dantcho Markov (tapan) and Misho Markov (bass).
The brothers grew up in Bratsigovo, Thrace, Bulgaria. Georgi is a master of the kaval. which he studied at the famous Shiroka Laka Folk Music School. For many years, the brothers were members of the Zdravets Folk Ensemble in the city of Peshtera, and performed with the ensemble in several countries. They have been established for several years in Montreal where, in2000 they released a CD enitled Traky. Vassil, Nikola, and Petar are also members of the well-known Montreal band Soleil Tzigane.
In 1966, fascinated by Balkan folklore, 17-year-old Yves Moreau first went to Bulgaria. He traveled around the country, recording dancers, singers, and instrumentalists on film and tape, and learned to speak Bulgarian. He returned to Bulgaria almost annually between 1966 and 1986 to research dance and record music.
Now recognized as one of North America's foremost exponents of Bulgarian dance and folklore, he has, for more than 50 years, been lecturing and conducting workshops on Bulgarian, Balkan, and Québcois dance throughout North America as well as in Australia, Austria, Belgium, Brazil, France, Germany, Hong Kong, Hungary, Israel, Italy, Japan, Mexico, the Netherlands, New Zealand, Norway, Singapore, Slovenia, Sweden, Switzerland, Taiwan, Thailand, and the United Kingdom.
Murmurosi (Мурмуроси) is a duo comprised of Natalia Telentso and Eli Camilo who sing Ukrainian polyphonic folk songs. Raw, dense harmonies combine with simplicity, perfectly conveying the hardships and prosperities of Ukrainian village life.
Sergiu Popa, originally from Moldova, has become an important part of Montreal's world-music scene since his arrival in 2002. A conservatory-trained virtuoso accordionist from a Roma family dynasty of musicians, he is a specialist in the traditional music of SouthEastern Europe. As well, he has absorbed a wide variety of influences from the worlds of jazz, Latin, and Middle-Eastern music. A sought-after teacher of accordion, he has offered workshops at CAMMAC, KlezKanada, Django in June, and the EEFC's Balkan Camp.
He has won several prestigious prizes, performed and recorded as a soloist, toured Quebec's major festivals and Maisons de la culture. and released two solo albums, Obsession Accordéon (2006) and Tous en accord (2014), as well as an instructional DVD, Gypsy & East European Accordion with Sergiu Popa (2010).
Petar Ralchev, accordionist, was born in 1961 and has become one of the brightest stars on the Bulgarian music scene. Having inherited a wealth of tunes and rhythms from the folk tradition, he has taken them into new realms and to new heights. His deep understanding of this tradition, combined with rigorous classical training at the National School of the Arts of Music and Dance in Plovdiv, Bulgaria is the basis for his incredible artistic development.
The founder of a unique performing style which combine virtuosity, melodiousness, rich harmony, and improvisation, he has become an inspiration for many around the world today.
Sava, a vocal ensemble that sings traditional a cappella folksongs from the Balkans and beyond, is led by Dina Cindrić. For this performance, Dina will be joined by Sarah Albu, Antonia Branković, and Sara Rousseau to sing about love and nature in traditional village singing styles.
The Sumak Brass Band plays a mix of Macedonian, Bulgarian, Turkish, and Romani repertoire. It comprises some of the most active musicians on the Montreal world music scene, including Ariane Morin (saxophone), who regularly travels to Plovdiv and Istanbul to study with renowned teachers.
Tsonko Stoyanov is the choreographer with Ensemble Balgari, the Montreal-based Bulgarian folk-dance ensemble, He is also a caterer, and will provide Balkan food for our dance party.
Tsonko Stoyanov was born in Yambol, Bulgaria. In 1983, he began dancing with the Tundzha folklore troupe in his native city. Over the course of years he became the group's choreographer and completed professional training in artistic direction in Plovdiv. He moved to Montreal in 2002 where, since 2013, he has been choreographer and artistic director of the Ensemble Balgari. He also founded the dance club Trakia for youth who wish to learn the rudiments of the dance of their country of origin.
Tsonko and his wife Galya are also known as caterers. They will offer Balkan culinary specialties during the BalkanFest dance party.
Since 1975, when Jocelyne Vaillancourt first fell in love with folkdance, it has been the focus of her spare time and trips. She has been teaching international folkdancing at the Université de Montréal for several decades, and regularly organizes dance workshops in Montreal for visiting folk-dance specialists.